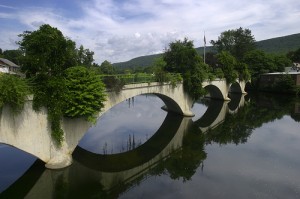 Cavalier Cottage Bed and Breakfast is just minutes from downtown Shelburne Falls, MA and the famous Bridge of Flowers, the glacial potholes, splendid shopping and dining choices, as well as the work of local artisans featured in galleries and cooperatives.
Outdoor activities abound…hiking, kayaking, whitewater rafting, tubing, swimming, zip line canopy tours, tennis, golf, horseback riding, cycling, hiking, rock climbing, downhill and X-country skiing, snow shoeing.
A new exclusive cottage amenity:
Tarot by Paris
Now available by appointment:  Insightful, intelligent tarot readings by Paris Finley.   You can schedule a reading at the cottage for only $35.00.  Readings run 30 minutes to an hour.
For much more information visit www.tarotbyparis.com
Area Attractions
During the summer and Fall, Charlemont is home for the Mohawk Trail Concert series, featuring internationally-known musicians, including the well-known duo of Joan Morris and William Bolcom among others. For those interested in more energetic activities, the nearby Deerfield river has long stretches of challenging Class 3 and Class 4 rapids, and several rafting companies, including : Zoar Outdoor River Rafting and Moxie Outdoor Adventures provide exciting river adventures for all ages. Additional thrills can be found by visiting either Deerfield Valley Canopy Tours or Berkshire East Canopy Tours.
The Deerfield is also well known for its excellent swimming and inner tubing, in addition to crystal-clear trout waters, including several catch-and-release areas, famous for large, cagey trout. Guided fly fishing trips are available through Northeast Fly Fishing Guide Service.  Portions of the nearby Mohawk Trail State Forest are home to spectacular, old-growth trees that were likely here when the pilgrims first came to Massachusetts. Other local state forests have miles of hiking trails, old charcoal kilns and other historic sites. In winter, the cottage is only 13 miles from a well-maintained ski area (Berkshire East), with a brand new base lodge, excellent lift capacity, a well-stocked ski and snowboard shop, 45 trails, and snow making capacity on 100% of the mountain.
The cottage is just 25-35 minutes drive from the historic homes and museums of Old Deerfield, and the famous Yankee Candle Company. We are about the same distance from the outstanding Massachusetts Museum of Contemporary Art (Mass MoCA) in North Adams, the The Sterling and Francine Clark Art Institute, Williams College Museum of Art and the Berkshire Museum. The latter is 3 museums in one-art, natural science and history, and is the oldest museum in the country. They have rich holdings of American art from the 19th and 20th Centuries plus an interactive aquarium. We are also located about 45 minutes from Northampton, Mass., home of Smith College as well as many great restaurants and shops and the Words and Pictures Museum. We are about one hour from Tanglewood, and the Norman Rockwell Museum. Other area attractions include the  Goat Rising Farm, Shantigar and the lovely Village of Shelburne Falls.
There is literally a basketful of area information in the cottage for your easy access and convenience.
DISTANCE/TRAVEL TIME TO SURROUNDING TOWNS & ATTRACTIONS:
AREA COLLEGES
43 minutes to Smith College, Northampton – 31 miles
24 minutes Greenfield Community College & Stillpoint School of Massage, Greenfield -14 miles
50 minutes to Hampshire College, Amherst – 37 miles
45 minutes to Amherst College and UMass – 31 miles
1 hour to Mt. Holyoke College S. Hadley – 47 miles
58 minutes to Williams College, Williamstown – 29.8 miles
27 minutes to Conway School of Landscape Design, Conway – 13 miles
35 minutes to Hallmark School of Photography, Turners Falls – 19.5 miles
26 minutes to Gold Thread Herb Farm, Conway – 12.9 miles
37 minutes to C.S. Lewis College, Northfield – 24 miles
46 minutes to Mass College of Liberal Arts (MCLA), N. Adams – 24 miles
TOWNS
7 minutes to Shelburne Falls – 4.5 miles
43 minutes to Brattleboro — 33.5 miles
CULTURAL ATTRACTIONS
30 minutes to MASSMoCA, N. Adams – 24.5 miles
19 minutes to Shantigar Village, where artistic and spiritual practices entwine, Rowe – 19 miles
1 hr. and 20 minutes to Jacobs Pillow, Becket – 53 miles
1 hr. and 20 minutes to Tanglewood – 46 miles
1 hours to the Sterling and Francine Clark Art Institute, Williamstown – 38 miles
57 minutes to the Williamstown Theatre Festival and Center for Theatre and Dance,  Williamstown – 30 miles
1 hour and 29 minutes to the Norman Rockwell Museum, Stockbridge – 50.8 miles
10 minutes to Mohawk Trail Concerts, Charlemont – 6 miles
50 minutes to Amherst and the National Yiddish Center on the campus at Hampshire College – 37 miles
25 minutes to Historic Deerfield Village – 21 miles
15 minutes to Rowe Conference Center – 12 miles
OUTDOOR ACTIVITIES
10 minutes to Zoar Outdoor (zip-line, river rafting, kayaking, mountain climbing) Charlemont – 5.8 miles
13 minutes to Berkshire East (zip-line and skiing), Charlemont – 6.5 miles.  For more information go to:
http://

berkshireeast

.com
5 minutes to Crab Apple whitewater river rafting , Charlemont – 3 miles
21 minutes to Stump Sprouts, cross country skiing, Hawley – 11.8 miles
13 minutes to Moxie Outdoor river rafting, Charlemont – 6.4 miles
AREA SCHOOLS
30 minutes to Deerfield Academy, S. Deerfield – 21 miles
50 minutes to Williston-Northampton Academy, Easthampton – 36 miles
27 minutes to Stoneleigh-Burnham School, Greenfield – 16 miles
37 minutes to Northfield Mt. Hermon School, Gill – 24 miles
10 minutes to The Academy at Charlemont, Charlemont – 4 miles
30 minutes to the Bement School, S. Deerfield – 21 miles